Call for the demonstration on the 1st of August in Berlin-Neukölln, Herrfurthplatz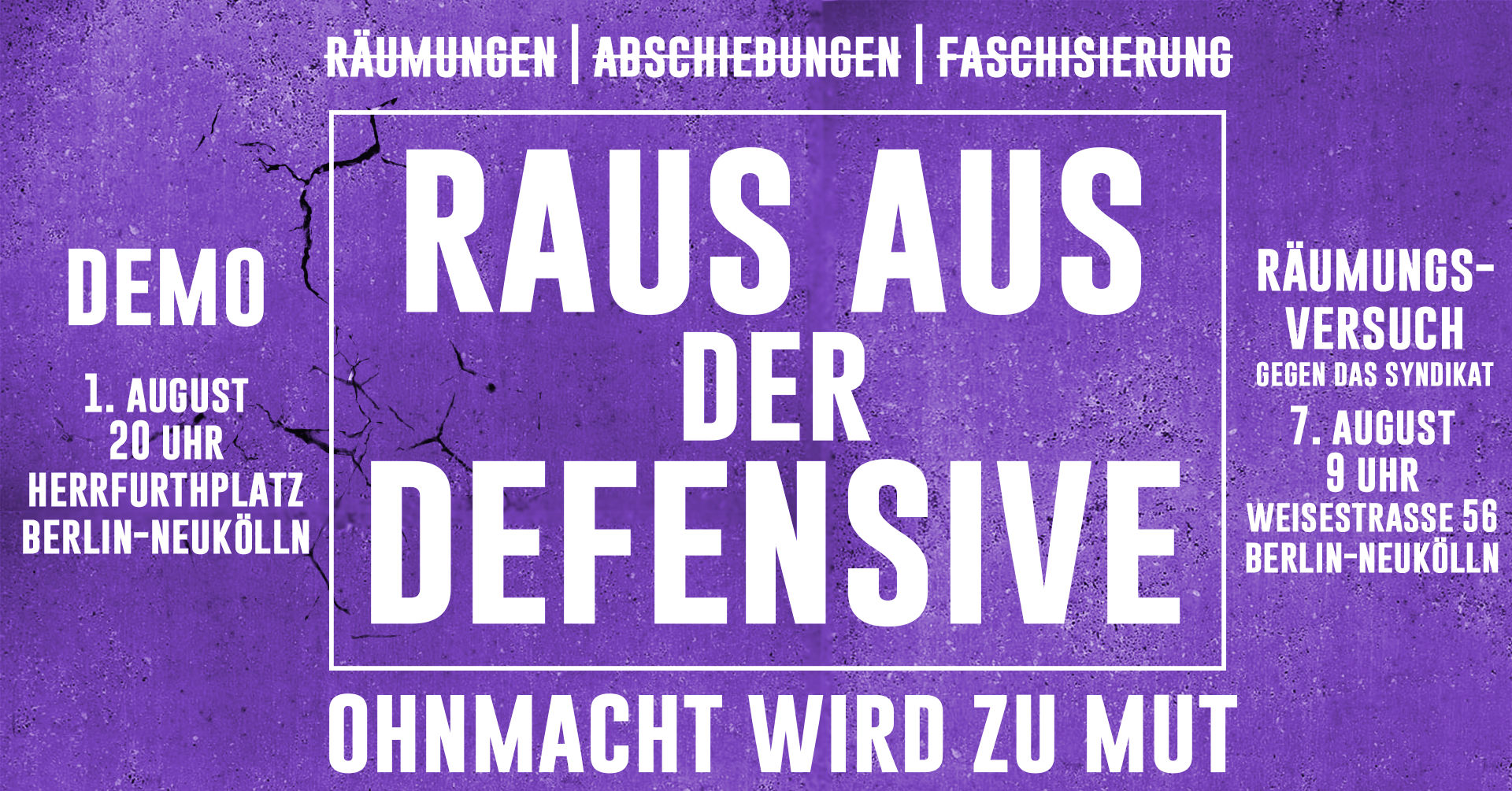 auf Deutsch gibts das ganze unten
The new phase of evictions has started. Not, as expected, with the announced eviction of the Kiezkneipe (neighbourhood bar) Syndikat, but with an attack from the cops.
An attack that was masked as a raid, with the plan for it to turn into an eviction of parts of our house. It was coordinated with some disgusting figures representing the so-called owner, in order to gain control of a space that is a thorn in the eye of a pacified european metropolis. On the 9th of July and the days that followed, we defended ourselves and reduced their filthy plans to ashes – taking back the evicted flat, pushing out the cops and bureaucrats and regaining control of our house.
This would not have been possible without the common fight and solidarity that goes far beyond our little rebellious neighborhood. Numerous people participated in the spontaneous gatherings in front of the house and nightly demonstrations in the richer neighborhoods of Berlin. While some people were cooking for everyone, others took part in the 24/7 shifts around the house. Many things destroyed by the cops were reconstructed almost immediately and different groups claimed actions in solidarity with Rigaer94. Showing once again, that solidarity in all its forms is our strongest weapon against the coordinated attacks from the state on the movement and its upcoming attempts to evict our spaces in Berlin.
We do not perceive the most recent attack as an isolated incident. But, as a piece of the mosaic that is the dogma of "law and order", applied by the German state against anything that resists in a self-organized and anti-hierarchical way. Anything that opposes the states dominance radically, that collectivizes the resistance and directly challenges the states monopoly of violence. Even though the state and its police hid behind their lie of only protecting the self-proclaimed ownership of the house, we should not think of them as needing any pretext for attacks on us – not hesitating to go beyond the limits of their own laws whenever they see fit. Therefore we do not beg for any justice that is imposed on us by the bourgeois, but call for active self defense in a determined fight for freedom and equality.
Always serving the interests of capital, the state does whatever it takes to impose their goal of a city as a marketable "product", where spaces that do not fulfill their desires are suppressed and evicted. The metropolitan field becomes an ongoing process of confrontation between marginalized populations on the one hand, and real estate entrepreneurs, investors, start-ups, the tourism industry, security companies, and cops in an increasingly surveilled urban environment on the other – with the aim of gentrifying and fully converting everything into a profitable business. A process in which the radical projects cannot be sucked into, but have to stand as actual examples of self-organization and the fulfillment of our needs from below.
It's for these reasons that the state and the cops, with their court orders, cold evictions and repressive operations, have carried out dozens of evictions and are planning on many more. "Sabot Garden", "G17a", "GHS", "Teppichfabrik", and "Dragi" are only a few examples of places that have already been evicted. Others like the bar collectives "Meute" and "Syndikat", the youthclub "Potse" and the anarcha-queer-feminist project "L34" are facing their upcoming evictions.
We find ourselves in a reality where racist violence and fascist tendencies are on the rise, where omnipresent police murder and invade all public places, where the state conducts dozens of raids in Leipzig, Baden-Würtemberg, Bremen, and Frankfurt targeting left-radical structures. A reality in which the courts comply with the states will of vengeance – like in the case of Loic and the three from the "Parkbench". Therefore, we have to get out of the defensive and actively make clear that we will always stand against state and capital.
As we go through a period where our structures and spaces are facing an extensive attack, our place is in the streets, together with those who resist the reality that those in power want to impose on us. Wherever in the world, an attack on the structures of the struggle and on the ideas of freedom, self-determination, solidarity and revolt deserves an answer that will be turned into the permanent attack on this murderous system.
So we call for the demonstration on 1st of August at Herrfurthplatz in Berlin to show our solidarity with all the threatened projects – giving a small taste of what follows any possible eviction. Lets make this demonstration a dynamic response to the agenda of state and capital. An offensive statement serving as a barricade and a threat to their repressive plans.
Against the state and the bosses, against anyone who has an interest in maintaining inequality and injustice.
Solidarity with L34, Potse, Syndikat, Meute
Solidarity with all those attained by repression – Freedom for Everybody
In order for us to stand, they have to fall!
---
[B] Sie müssen fallen – damit wir stehen können
Aufruf zur Demonstration am 1. August in Berlin Neukölln, Herrfurthplatz
Die Phase der Räumungen hat gerade begonnen. Nicht wie erwartet mit der angekündigten Räumung der Kiezkneipe Syndikat, sondern mit einem Angriff der Cops, verkleidet als Razzia mit dem Hintergedanken, sie in eine Räumung des Hauses zu verwandeln. Der Angriff wurde mit einigen widerwärtigen Figuren, die den angeblichen Hauseigentümer repräsentieren koordiniert. Ziel ist es, Kontrolle über einen Raum zurück zu erhalten, der ein Dorn im Auge einer befriedeten europäischen Metropole ist. Am 9ten Juli und den darauf folgenden Tagen haben wir uns verteidigt und ihre dreckigen Pläne zu Asche reduziert, uns die geräumten Wohnungen zurückgenommen, die Cops und Bürokraten aus dem Haus gedrückt und die Kontrolle über unser Haus zurückgewonnen.
Ohne den gemeinsamen Kampf und die Solidarität, die weit über unsere kleine rebellische Nachbarschaft hinausging, wäre das nicht möglich gewesen. Viele Menschen haben an spontanen Versammlungen vor unserem Haus und nächtlichen Demos in den reicheren Nachbarschaften Berlins teilgenommen.
Verschiedene Menschen bekochten über Tage all die, die hier waren, andere füllten mit uns die durchgehenden Schichten rund ums Haus. Vieles, was die Cops zerstört hatten, wurde fast unmittelbar wieder aufgebaut und diverse Gruppen bekannten sich zu Aktionen in Solidarität mit der Rigaer94. Das zeigte wieder einmal, das Solidarität, in all ihren Formen, unsere stärkste Waffe gegen den koordinierten Angriff des Staates auf die Bewegung und die Versuche der kommenden Monate, unsere Räume zu nehmen, ist.
Wir empfinden diesen letzten Angriff nicht als isolierten Vorfall. Vielmehr ist er ein kleines Stück im Mosaik des "Law&Order" Dogmas, welches der deutsche Staat anwendet gegen alles, das auf selbstorganisierte und anti-hierarchische Weise Widerstand leistet. Alles was sich der staatlichen Dominanz radikal entgegenstellt, Widerstand kollektiviert und dem staatlichen Gewaltmonopol entgegenstritt. Obwohl der Staat und seine Polizei sich hinter ihren Lügen versteckt, nur den selbsternannten Hausbesitz zu beschützen, sollten wir uns nicht einbilden, dass sie einen Vorwand brauchen um uns anzugreifen und nicht zögern, die Grenzen ihres Rechts zu überschreiten, wenn sie es für notwendig halten. Darum betteln wir nicht um jedwege Gerechtigkeit, welche uns von der bürgerlichen Gesellschaft auferlegt wird, sondern rufen zu aktiver Selbstverteidigung in einem Kampf für Freiheit und Gleichheit auf.
Stets im Interesse des Kapitals agierend, legt der Staat alles daran, sein Ziel der Stadt als vermarktbares Produkt durchzusetzen, indem Räume, welche nicht ihre Wünsche realisieren, unterdrückt und geräumt werden. Die Metropole wird zu einem Feld der stetigen Auseinandersetzung und Konfrontation zwischen Marginalisierten und Widerständigen einerseits und Immobilienunternehmerinnen, Investorinnen, Start-Ups, Tourismusindustrie, Sicherheitsunternehmen und Cops in einem zunehmenden überwachten und digitalisierten urbanen Raum auf der anderen Seite, mit dem Ziel alles vollends zu gentrifizieren und in ein profitables Geschäft umzuwandeln. In diesen Prozess dürfen sich die radikalen Projekte nicht hineinziehen lassen, sondern müssen als Beispiel der Selbstorganisation für die Erfüllung unserer Bedürfnisse von unten einstehen.
Aus all diesen Gründen haben Staat und Cops mit richterlichen Beschlüssen in der Hand oder durch kalte Räumungen und geplanten Repressionsschlägen schon dutzende Räumungen durchgesetzt und planen noch viele mehr. "Sabot Garden", "G17a", "GHS", "Teppichfabrik", und "Dragi" sind nur einige wenige Beispiele an Orten, die bereits geräumt wurden. Andere wie die Kollektivkneipen "Ḿeute" und "Syndikat", der Jugendclube "Potse" und das anarcha-queerfeministische Project "L34" stehen vor drohenden Räumungen.
Wir leben in einer Zeit, in der rassistische Gewalt und faschistische Tendenzen zunehmen, in der omnipräsente Polizei mordet und allen öffentlichen Raum einnimmt, in welcher der Staat Dutzende Razzien in Leipzig, Baden-Würtemberg, Bremen und Frankfurt gegen links-radikale Strukturen durchführt. In einer Zeit, in der die Gerichte bereitwillig der Lust des Staates nach Rache nachkommen, wie im Falle Loics und den drei von der Parkbank. Desshalb müssen wir aus der Defensive heraustreten und klar machen, dass wir stets gegen Staat und Kapital stehen werden.
Wir erleben eine Periode, in der unsere Strukturen und Räume einem anhaltenden Angriff ausgesetzt sind. Jetzt ist es an der Zeit, sich die Straßen zu nehmen, gemeinsam mit denen, die gegen die Realität, welche uns die Mächtigen auferlegen wollen, Widerstand leisten. Egal in welchem Teil der Welt ein Angriff auf Strukturen und Ideen der Freiheit, der Selbstbestimmung, der Solidarität und der Revolte stattfindet, es verdient eine Antwort, die sich zu einem permanenten Angriff auf dieses mörderische System entwickelt.
Darum rufen wir zur Demonstration am 1. August am Herrfurthplatz in Berlin auf, um unsere Solidarität mit allen bedrohten Projekten kundzutun und einen kleinen Vorgeschmack auf das, was jeder möglichen Räumung folgen würde, zu geben.
Lasst uns diese Demo zu einer dynamischen Antwort auf die Agenda von Staat und Kapital machen. Eine offensive Ansage als Barrikade und Drohung gegen diesen repressiven Plan.
Gegen Staat und Bosse, gegen jede*n mit einem Interesse am Erhalt von Ungleichheit und Ungerechtigkeit.
Solidarität mit L34, Poste, Syndikat, Meute
Freiheit für Alle – Solidarität mit allen von Represion betroffenen!
Sie müssen fallen damit wir stehen können!