—english version below—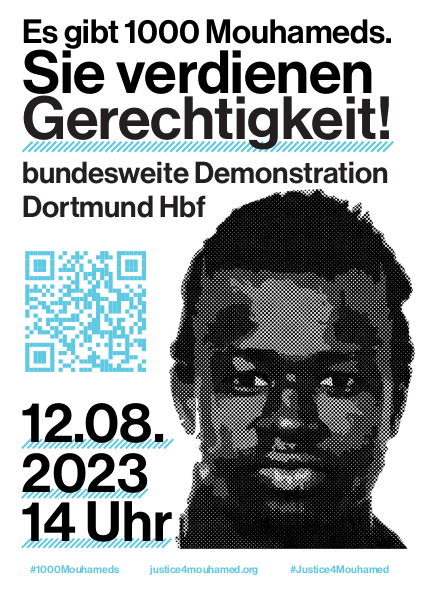 CW: Rassismus, Polizeigewalt und Mord
Mouhamed Lamine Dramé wurde am 8. August 2022 von 5 Cops in Dortmund ermordet. Er war ein 16-Jähriger aus dem Senegal, der unter psychischer Belastung litt. Mouhamed war seit April 2022 in Deutschland und kam ein paar Tage vor seiner Ermordung nach Dortmund. Am Tattag rief ein Mitarbeiter der Wohngruppe für Jugendliche, in der er lebte, die Cops, er sagte Mouhamed sei suizidal. Als die Cops ankamen taserten und pfefferten sie ihn, zuletzt schossen sie mit einer Maschinenpistole auf Mouhamed. Augenblicke später starb er im Krankenhaus. Es gibt keine Gerechtigkeit, keinen Frieden, also zeigen wir Solidarität auf den Straßen Dortmunds am 12. August 2023!
SOLIDARITÄT KANN NICHT ZUM SCHWEIGEN GEBRACHT WERDEN
Familienmitglieder, Partner*innen oder Freund*innen von BIPoC werden nie eine sorgenlose Beziehung zum europäischen Imperium haben, denn ein Auto zu fahren, auf der Straße zu rennen oder in einer Notlage zu sein, kann immer in einem rassistischen Mord durch die Polizei enden. Aber anstatt das zu verstehen, hat die Presse Mouhameds Familie für tot erklärt um ihnen ihre Stimme zu nehmen, sie mussten die Nachricht von seinem Tod durch eben diese Presse erfahren. Doch durch die Solidarität die ihnen entgegengebracht wurde, konnten sie aus dem Schatten des Schweigens herausgeholt werden. Seit dem Mord wurden in Dortmund Kundgebungen, Events und Demonstrationen organisiert, nicht nur in Solidarität mit Mouhamed und seiner Familie, sondern auch um die berüchtigte Polizeigewalt in der Dortmunder Nordstadt aufzudecken.
KOLONIALE GEWALT MACHT NICHT AN DEN GRENZEN HALT
"Die Anderen", die ins europäische Imperium reisen, werden als gefährliche Klasse betrachtet. Sie werden als Schmarotzer mit grundlegend anderen ethischen Grundsätzen und Werten entfremdet. Da es dem europäische Kontinent aber an Ressourcen fehlt, begrüßen die Kolonisierenden die Ressourcen die beim ausrauben des globalen Südens gewonnen werden, die "Wilden" hingegen werden "akzeptiert" wenn sie unter extrem prekären Arbeitsbedingungen ausgebeutet werden können, oder als unnützes Surplus abgewiesen (d.h. durch (tödliche) Pushbacks). Seit 1993 wurden mindestens 53000 Menschen von der Festung Europa getötet, darunter auch Mouhameds Bruder. Klasse ist grundsätzlich kolonial und die psychische Not eines Senegalesen wird nicht als Produkt der materiellen Bedingungen gesehen. Stattdessen wurde Mouhameds Notlage als eine Gefahr angesehen, was an den Vorurteilen gegenüber BIPoC in der kolonialen Denkweise liegt.
RUF DIE POLIZEI IN DEINEM KOPF UND TÖTE SIE DA
Gesundheitspfleger*innen und Sozialarbeiter*innen, die die Polizei rufen wollen wenn jemand in einer psychischen Notlage ist: Ruf sie in euren Köpfen und tötet sie da! Wenn sich jemand ein Bein bricht, würde man niemals die Polizei rufen, weil es dann Unterstützung, Pflege und Heilung benötigt. Psychische Notlagen werden als Ausnahmezustand bezeichnet, aber es sind die materiellen Bedingungen, die nicht akzeptabel sind. Unter diesen Bedingungen kann man psychisch zerbrechen und braucht dieselben Ansätze wie bei physischen Schmerzen, anstatt Polizist*innen die einen bedrohen und töten.
ÜBER GERECHTIGKEIT
Es gibt 1000 Fälle die wie Mouhamends auf Gerechtigkeit warten, so wie Nahel M., Ferhat Mayouf, Rishi Chandrikasing, Adam Traoré, Dominique Kouamadiou und Mitch Henriquez. Aber es gibt keine Gerechtigkeit in einem System von Verbrechen und Strafe, es gibt keine Gerechtigkeit in der Demokratie, es gibt keine Gerechtigkeit von den Kolonisierenden in ihrem Imperium. Die Festung muss fallen, das Bestehende muss ausgelöscht werden, in der Gegenwart gibt es keine Lösung außer unserer Solidarität und dem Angriff.
Kommt zur Demonstration am 12. August in Dortmund, Start: 14:00 Uhr am Hauptbahnhof!
(Der offizielle Aufruf und mehr Informationen: https://justice4mouhamed.org/)
Rigaer94
_____________________________________________________________________________________________
SHOWING SOLIDARITY ON THE STREETS OF DORTMUND
CW: racism, cop violence and murder
Mouhamed Lamine Dramé was killed by 5 cops on the 8th of August 2022 in Dortmund. He was a 16-year old from Senegal who was in psychological distress. Mouhamed was in Germany since April 2022 and arrived in Dortmund few days prior to the murder. On the day he got killed, an employee of the youth institution of assisted living for youth, where he was staying, called the cops and said that Mouhamed is suicidal. When the cops arrived, they tasered, pepper sprayed and finally shot him with a machine gun. Moments later Mouhamed died in the hospital. There is no justice, no peace so show your solidarity on the streets of Dortmund on the 12th August 2023!
SOLIDARITY CAN'T BE SILENCED
Family members, partners and kins of BIPoC will never have a carefree experience in relation to the empire of Europe, because driving a car, taking a sprint on the street or being in need of care, can result into a racist cop murder. Instead of realizing that reality, the media silenced the family of Mouhamed as dead, while the family had to take notice of his death via that same media. But through a response of solidarity, Mouhamed and his family have been taken out of the silencing shadows. Since the murder, demonstrations and events have been organized in Dortmund and elsewhere, not only to make noise for Mouhamed and his family members, but as well to unveil the notorious cop violence in Dortmund Nordstadt.
COLONIAL VIOLENCE DOESN'T STOP AT THE BORDER
"The others" who travel to the European Empire are considered a dangerous class. They get alienated as gold diggers with fundamentally different ethics and values while it's the European continent that is low in resources. The colonizer welcomes the resources on their continent by robbing the global south, but "the savage", are either "accepted" in case they can be exploited in extremely precarious working conditions, or repelled as unnecessary surplus (meaning pushed back and possibly killed). Since 1993, at least 53000 people have been killed by Fortress Europe, from which one was Mouhamed's brother. Class is fundamentally colonial and thus psychological distress of a Senegalese is not seen as a product of the material conditions. Instead the condition of Mouhamed was seen as a danger which lays in the prejudice of how BIPoC are viewed from a colonial mindset.
CALL THE COPS IN YOUR HEAD AND KILL THEM THERE
Healthcare workers and social workers who think about calling the cops when someone is in psychological distress: call them in your head and kill them there! If someone breaks their leg, one would never call the cops because it is a question of support, care and healing. Psychological distress is labeled as an exceptional condition but it's the material conditions that are unacceptable. Under these conditions, the mind can break and needs the same approach instead of cops that threaten and kill.
ABOUT JUSTICE
Like Mouhamed, there are 1000 cases that await justice, just like Nahel M., Ferhat Mayouf, Rishi Chandrikasing, Adama Traoré, Dominique Kouamadiou and Mitch Henriquez. But there is no justice in a system of crime and punishment, there is no justice in democracy, there is no justice to be found at the colonizer in the empire. The fortress must fall, the existant has to be annihilated, there is no solution in the present but our solidarity and the attack.
Join the demonstration on the 12th of August, 14:00h at the central station!
(The official call and more informations: https://justice4mouhamed.org/)
Rigaer94